Google Maps for SugarCRM Project
Like many projects on SugarForge.org, the JJWDesign Google Maps project started out during an afternoon conversation on how great it would be if we could map all of our SugarCRM leads on a single Google Map. The project has come a long way since that time, thanks to contributions from companies and supporters from all around the world. This project continues to be a free to download and use package, available for all version of SugarCRM. Many consulting companies use this package for their clients' mapping needs, and I happily support them.
Provides Google Maps mapping for:
Accounts
Contacts
Leads
Opportunities
Meetings
Targets
Cases
Projects
And on request Custom Modules as well.
Multiple records can be mapped, instead of just one record at a time. Mapping "mashups", including Map Areas and Custom Markers, can be created and saved. Multiple records can be mapped by selecting records on a module's listing view, by defining a custom map with center record or even by typed address and radius (by Quick Radius).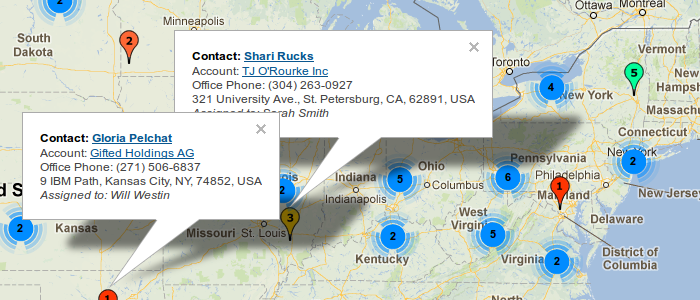 Customizations
Imagination is where this project began and imagination is where it continues to proceed. While I can not guarantee that all customizations I do for companies will end up in the free package, I will try to make many of the common customizations available for download as "Add-Ons" for this package. While the main JJWDesign Google Maps Package for SugarCRM will remain free and continue to develop over time, I must sell the "Add-Ons" due to the complexity and inevitable support needed. Many of the "Add-Ons" are available on this Web site via Digital Download Purchase thru PayPal.
Add-Ons for the JJWDesign Google Maps Package for SugarCRM
50 US States for Google Maps
Geocoding on the Fly Plugin (Logic Hook)
Auto-Assign Leads by Map Area Plugin (Logic Hook)
Geocoding Script for Exported Data Geocoding (External)
Google Maps by Proxy Script for SugarOnDemand Users (External)
Manage Target Lists by Map Area (Custom)
More soon.
ModuleBuilder Installation (Download)
Installation is very simple using the ModuleBuilder tool and can be uninstalled (reversed) if needed. Download the latest package JJWDesign Google Maps package from the GitHub.com project at:
https://github.com/jjwdesign/JJWDesign-Google-Maps
IMPORTANT: You must extract the contents of the zip package and then re-compress (zip) the package without the base folder. This is critical for the ModuleBuilder to accept the zip package.
You may also download the package here:
Note, you must be logged in as an Administrative User to use ModuleBuilder. Please see the SugarCRM documentation on how to use ModuleBuilder if you are new to this process.